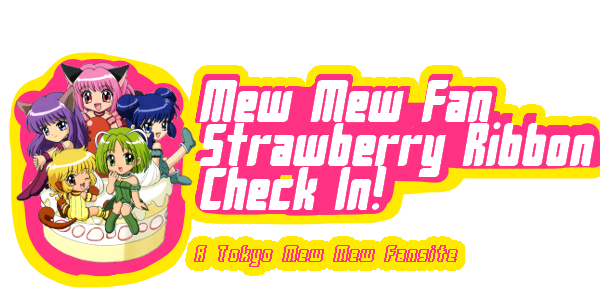 About the Site

Hello! My name is Charlie, I'm a Canadian born in 1998 who loves anime, manga, video games (especially vintage ones), and computers. After discovering neocities, which hosts this site, I fell down a rabbit hole of early internet nostalgia. I read the Tokyo Mew Mew manga when I was very young and I've kept my copies of the books all these years. I found a lack of centralized resources for all things TMM besides the wiki and thought I'd launch Mew Mew Check to fill that gap. Feel free to click around the site, or email me at aamayally@gmail.com

About Tokyo Mew Mew/Mew Mew Power

Tokyo Mew Mew was a manga serialized in Nakayoshi between September 2000 and February 2003. It was later released in English in seven volumes licensed by Tokyo Pop and three omnibus editions licensed by Kodansha. The series was written by Reiko Yoshida and illustrated by Mia Ikumi.
The series was later adapted into a fifty-two episode anime by Studio Pierrot, debuting in Japan on April 6th, 2002 and wrapping up on March 29th, 2003. In its North American release with 4kids the show was dubbed, halved, and released under the name Mew Mew Power. The English version of Tokyo Mew Mew is heavily changed.
There was a short sequel in manga for called Tokyo Mew Mew à la Mode released in Nakayoshi from April 2003 to February 2004. The manga was licensed for an English release and published by TokyoPop and the first volume was released on June 7th, 2005. The second volume was released on December 8th, 2006. Kodansha's re-translation of both volumes was released in omnibus form on November 5, 2013.

Tokyo Mew Mew Return is a two-part manga released in Nakayoshi magazine in Japan. The first part was released on November 30th, 2019. The second chapter was released on February 3rd, 2020. Another, series, Tokyo Mew Mew Au Lait/Ore/Ole serialized simultaniously starting with the 64-page release from November 30th, 2019. Return features the original cast of Tokyo Mew Mew. Au Lait/Ore/Ole features a male cast. At this time neither series have English translations.

Tokyo Mew Mew New is a reboot of the original Tokyo Mew Mew series. One February 22nd, 2020 a countdown website appeared, and on April 2nd, 2020, the new series and an idol group (Smewthie) comprising of the winners of a audition competition who would play the main cast, was announced. Very little other information about this series is known at this time.